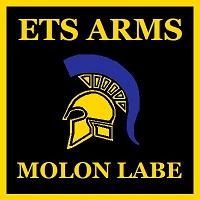 ETS ARMS
Borger, TX (United States)
About ETS ARMS
ETS ARMS is a federally licensed firearms dealer serving the Texas Panhandle Area. We prefer to handle dealer and private party transfers for our customers and do not generally stock merchandise for sale. We are on file as a transfer dealer with hundreds of on-line dealers, distributors, and manufacturers. We can also special order firearms and related supplies, customize your AR upper or lower, and we do some trigger work and installation of night sights on select handguns. We usually refer more extensive gunsmithing and manufacturing work out to other shops. If you don't see what your looking for on our website, visit one of our industry partners to the left and select us to be your transfer dealer. Our dealer and private party transfers are only $20 per firearm, and tips are optional.
Contact seller
Return Policy
Warranties
All firearms and merchandise sold or transferred by us is sold or transferred AS IS. We offer no warranty, whether express or implied on anything we sell or transfer to our customers. The only warranties these products have are any specific warranties provided by the manufacturer or distributors of the product. You must make arrangements with them for any warranty obligation or service. ETS ARMS will not act as an intermediary for warranty obligations performed by or on behalf of the manufacturer or distributor.
Governing Law and Jurisdiction
Any dispute arising out of or related to these TERMS or the sales transaction between the customer and ETS ARMS shall be governed by the laws of the State of Texas, without regard to its conflicts of law rules. Specifically, the validity, interpretation, and performance of this agreement shall not be governed by the United Nations Convention on the International Sale of Goods. ETS ARMS and the Customer consent to the exclusive jurisdiction and the exclusive venue of the State Courts of the State of Texas, and of Hutchinson County, to resolve any dispute between them related hereto, and the parties waive all rights to contest this exclusive jurisdiction and venue of such Courts. Finally, the Customer also agrees not to bring any legal action, based upon any legal theory including contract, tort, equity or otherwise, against ETS ARMS that is more than one year after the date of the applicable invoice.
Order Cancellations and Changes to Orders
Changes to orders cannot be made after they have been submitted. If you wish to change or cancel an order after submission, the entire order must be cancelled, and the entire order is subject to a 15% re-stocking fee. If you wish to change the FFL you selected for shipping your order to, you will be charged a $20 fee to correct the shipment and must be done before the item is placed with the shipping agent.
Returns, Refunds and Exchanges
ALL SALES ARE FINAL. Returns, refunds, and exchanges will not be allowed unless we determine that we mistakenly provided the wrong item(s) or service(s) to you and the following conditions are met:
(1) You must request the return, refund, or exchange within 15 days of receipt of your item(s) or service(s). We will determine whether to approve or disapprove your request and notify you of our decision.
(2) If we approve your item(s) for return, refund or exchange you must return your item(s) in the same condition that they were received in or your return, refund, or exchange will be refused. We will not accept responsibility for damages your item incurred in shipping. You should ensure your deliveries and claim on the shipper's insurance to recover your damages from them.
(3) Firearms may not be returned for simple cosmetic defects, blemishes or for any reason after they have been transferred to you by your FFL dealer.
(4) You must return your item(s) in person to our store unless they were shipped to you. If we shipped them to you, we will either provide you with a prepaid shipping label or refund the return shipping cost to you. If you ship your item(s) back to us for any other reason, then you will be responsible for paying the shipping costs to return and exchange your item(s) if applicable.
(5) You must pay all other fees owed to us and any difference in costs between the returned item(s) or service(s) and any item(s) or service(s) provided for in exchange.
(6) All refunds that are issued will be issued in the same way payment was originally received. Credit or Debit refunds incur a 3% fee for processing.
Shipping policy
General Shipping Policies
We only ship to the U.S. States and U.S. Territories and we are not a licensed importer or exporter therefore, international shipping is not available. We generally ship via USPS or UPS for shipping and every effort will be made to ship by the most economical method possible. Handguns generally ship by some form of 2nd Day Air unless you pay the added costs for Overnight Shipping. Long guns and general merchandise ship by ground delivery unless you pay the added costs for a more expedient shipping method. Ammunition must be shipped separately from other merchandise due to Federal laws and regulations. We do not warranty any shipping method or guarantee the time of arrival once the order has been shipped. You are responsible for paying any costs for insuring orders that you wish to insure for delivery. Refused deliveries that are returned will be subject to our 20% restocking fee and any other fees.
It is the your responsibility to know the laws where you reside and whether items you intend to purchase are lawful for you to own, possess or purchase there. We will not ship firearms to you unless you are a Federal Firearms License or C&R Licensee and we have a signed copy of your license on file. We will not ship to a P.O. Box for any reason. We will not modify a firearm from its original factory packaging or specification to make it compliant with the laws in a particular geographic location. We will not ship a firearm to a third party to modify it from the original factory packaging or specifications to make complaint with the law in a specific geographical location. We will not sell semi-automatic weapons, certain capacity magazines, or certain ammunition to any government agency or its employees in a specific geographical location where the laws of that geographical location restrict those items from public ownership or possession.
Shipping Restrictions
We will not sell, transfer, or ship any firearms, firearm frames or receivers, ammunition, magazines, or other merchandise to residents or government agencies in any of the following geographical locations:
(1) American Samoa
(2) California
(3) Chicago and/or Cook County, Illinois; City of Highland Park, Illinois; or the City of Aurora, Illinois; City of Deerfield, Illinois
(4) Connecticut
(5) Hawaii
(6) Maryland
(7) Massachusetts
(8) New Jersey
(9) New York
(10) U.S. Virgin Islands
(11) Washington, D.C.
We will not sell, transfer, or ship any firearm magazines over the stated capacities to residents or government agencies in any of the following geographical locations:
(1) Colorado (Any magazines over 15 rounds)
(2) South Bend, Indiana (Any magazines over 10 rounds)
(3) Vermont (Any rifle magazines over 10 rounds and handgun magazines over 15 rounds)
Legal Restrictions on Interstate Purchase or Transfer of Firearms
For Interstate purchases or transfers of firearms we follow both Federal and State Laws on the matter.
The Texas law that is relevant to interstate purchase of firearms is Texas Penal Code 46.07 Interstate Purchase:
"A resident of this state may, if not otherwise precluded by law, purchase firearms, ammunition, reloading components, or firearm accessories in another state. This authorization is enacted in conformance with 18 U.S.C. Section 922(b)(3)(A)."
The Federal law that is relevant to interstate purchase of firearms is 18 U.S.C. Section 922(b)(3)(A):
"(b) It shall be unlawful for any licensed importer, licensed manufacturer, licensed dealer, or licensed collector to sell or deliver—
(3) any firearm to any person who the licensee knows or has reasonable cause to believe does not reside in (or if the person is a corporation or other business entity, does not maintain a place of business in) the State in which the licensee's place of business is located, except that this paragraph
(A) shall not apply to the sale or delivery of any rifle or shotgun to a resident of a State other than a State in which the licensee's place of business is located if the transferee meets in person with the transferor to accomplish the transfer, and the sale, delivery, and receipt fully comply with the legal conditions of sale in both such States (and any licensed manufacturer, importer or dealer shall be presumed, for purposes of this sub-paragraph, in the absence of evidence to the contrary, to have had actual knowledge of the State laws and published ordinances of both States)"
Therefore we will sell or transfer a rifle or shotgun to a citizen of another State so long as it is legal for the person to purchase, receive or possess the rifle or shotgun within their home state and they must pass a NICS background check [The NICS exception for individuals who possess a valid State issued Handgun license does not apply to out of State Licenses, unfortunately].
Ammunition Shipping Requirements
We will only ship ammunition to you if you provide us a copy of your valid State or Federal issued photo ID indicating that you are at least 18 years of age for long gun ammunition or 21 years of age for pistol ammunition. When you buy ammunition, we must have a signed statement you that you are not a person who is prohibited by law from purchasing or possessing ammunition. You cannot purchase or possess ammunition if you have not been pardoned or had your rights restored and you:
1. Are Under Indictment for or have ever been convicted of a felony or a crime punishable by imprisonment for more than one year.
2. Are currently a fugitive from justice. (Including misdemeanor warrants outstanding)
3. Are an unlawful user of or addicted to any controlled substances.
4. Have ever been adjudicated mentally defective or committed to a mental institute.
5. Have ever been discharged from the Armed Forces under dishonorable conditions.
6. Are the subject of an order restraining them from harassing, stalking, or threatening their child or intimate partner, or a child of such partner.
7. Have ever been convicted of a misdemeanor crime of domestic violence.
8. Have ever renounced their United States Citizenship.
9. Are not an alien residing illegally in the United States.
Additional Shipping Regulations and Restrictions by Common Carriers:
USPS Regulations-
Handguns may not be shipped by private individuals except to a licensed firearms dealer, exporter, importer, or manufacturer or to certain military or government officers. Handguns must otherwise be shipped from an FFL holder to another FFL holder.
Rifles and Shotguns may be sent to themselves in another state or to themselves and in care of a resident of the other state for them. The package must:
1. not contain any external markings indicating that it contains a firearm.;
2. bear a return service requested endorsement;
3. be sent either priority mail express or registered mail;
4. include insurance for at least $200 or require signature confirmation of receipt.
FedEx and UPS Policies-
Handguns must be sent by 2nd Day Air or Overnight delivery. All firearms must either be sent to an FFL holder or from an FFL holder. The package may not contain any external markings indicating that it contains a firearm. A firearm must be shipped from an authorized FedEx or UPS service center or the FFL may have the item picked up at their place of business by their route delivery driver. A simple package shipping store may not accept a firearm for shipment through either FedEx or UPS.
Privacy Policy
ETS ARMS respects your privacy and is committed to protecting it. We provide these Privacy and Security Policies to inform you of how your personal and confidential information is used. These policies only apply to the ETS ARMS owned website and domain.
We will not sell, rent or lease your personal information to others. We do however use third parties to fulfill orders, ship orders, process payments, and perform other services at the request of our customers. We will only share your personal information with third parties when it is necessary to do so to provide you with the products and services that you request. We will also only share information with the government or law enforcement when we are compelled by law or court order to do so. We value you privacy and the preservation of your rights.
The ETS ARMS web site occasionally provides links to third-party websites for your education or convenience. If you access those links, you will leave our site and domain. We do not control those sites or their privacy practices, which may differ from ours. We do not endorse or make any representations about third-party Web sites. Our Privacy Statement does not cover the personal data you choose to give to unrelated third party Web sites. We encourage you to review the privacy policy of any company before submitting your personal information.
We are committed to protecting the information you provide us. To prevent unauthorized access or disclosure, to maintain data accuracy, and to ensure the appropriate use of the information, we have in place appropriate security procedures to safeguard the information we collect.
We use Secure Sockets Layer (SSL) encryption when collecting or transferring sensitive data such as credit card information. SSL encryption is designed to make the information unreadable by anyone but us. This security measure is working when you see either the symbol of an unbroken key or closed lock (depending on your browser) on the bottom of your browser window.
Your credit card numbers and banking account information are used only for processing payment and kept secure and confidential.
If there are updates to the terms of the our Privacy and Security Policies, we will post those changes and update the revision date in this document, so you will always know what information we collect online, how we use it, and what choices you have.
We value your opinions. If you have comments or questions about our privacy policy, please contact us at [email protected] or at the following address:
ETS ARMS
115 Ash St.
Borger, TX 79007